[Note: this is a guest post from my son, Christopher.]
Let's start with two recipes from Rare Collection: Superb Recipes by The Junior League of Galveston County (1985)—one for moussaka and one for brisket.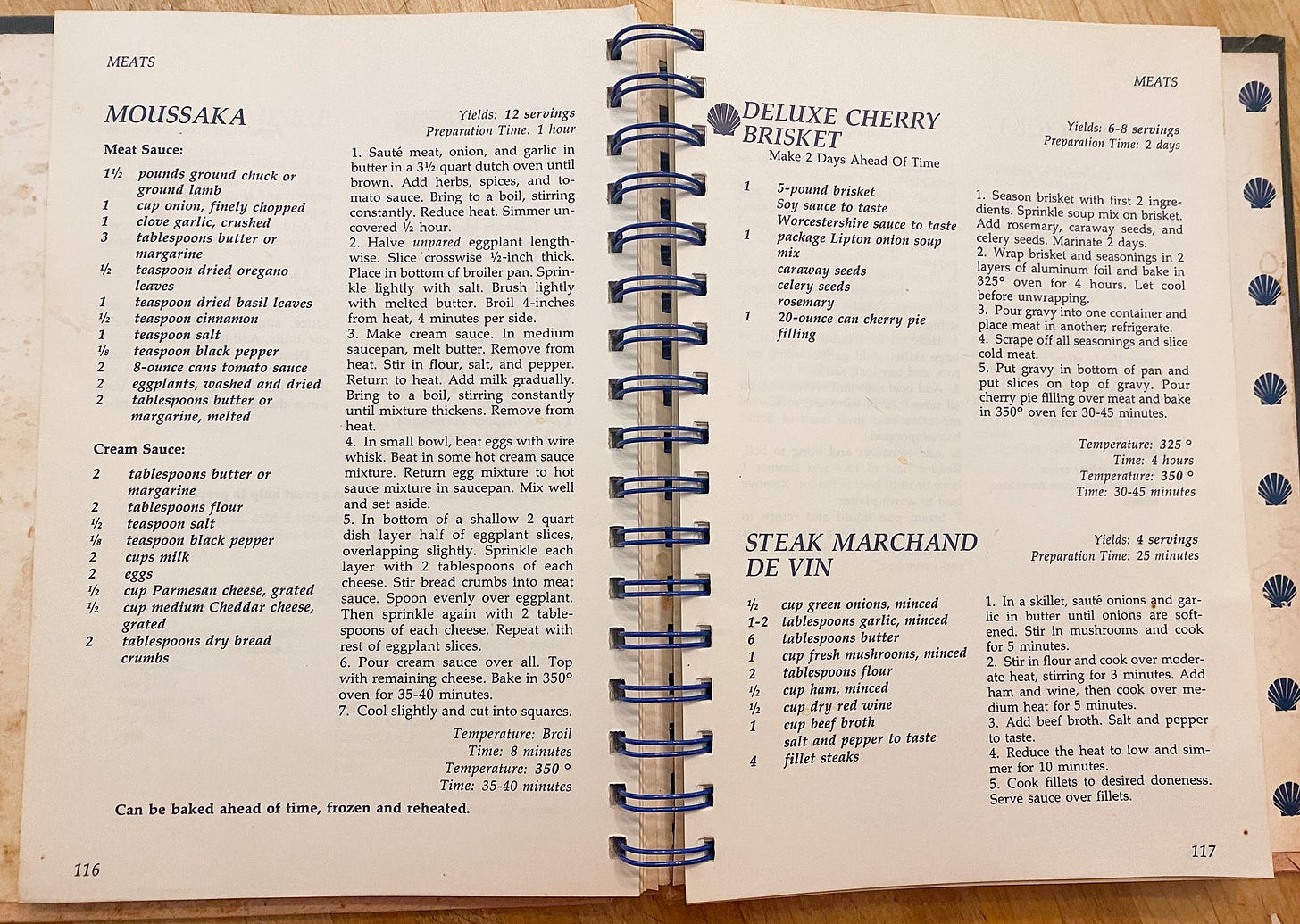 This cookbook originally belonged to Lorna's maternal great-grandmother, and then to Lorna's mom, Judy, and then to Lorna who took it when she moved out of her parents' house. She's cooked a variety of things from it over the years, but particularly the moussaka—most recently last December, which is when I first noticed the brisket recipe on the opposite page.
Season brisket with soy sauce and Worcestershire sauce. Okay, sure. Sprinkle Lipton onion soup mix, rosemary, caraway seed & celery seed onto brisket. Initially, the soup mix threw me off, but it's basically a spice mix, so whatever. It's the last step—where you put the drippings from the brisket into the bottom of a pan, layer the (cold) sliced brisket on top of it, and dump a can of cherry pie filling on top before baking the whole mess another half hour or so—that caught my attention in a wtf kind of way.
That recipe, and browsing through other recipes in the book as Lorna cooked, sparked a new obsession for me. I ordered a few other used Junior League cookbooks that evening (Dallas, Palo Alto, and Colorado), and several others in the following weeks. And more since: I have a cookbook called The Melting Pot: Ethnic Cuisine in Texas, which was compiled by UTSA's Institute of Texan Cultures. My mom picked up a stack of cookbooks at a garage sale several weeks ago, including two that were evidently fundraisers for the Sherman School Food Service Association. I found a bunch at an antique mall in Denison last weekend, but only came home with four, ranging from a long-defunct Dallas restaurant to an RV park in Harlingen, Texas.
I'm still trying to figure out what's behind my interest in these cookbooks, but I think a big thing is a curiosity about how recipes travel and change over time, and from context to context and kitchen to kitchen. I plan to write a guest post here once a week or so—look for one on braised celery next—but I'll also be writing at inscrutable.substack.com, if you want to follow along in more depth. In the coming months, I'll be putting out calls for favorite family recipes, as well as variations on particular themes. I look forward to hearing from y'all!